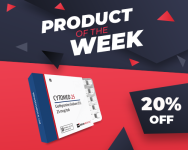 Dear Friends!
New product of the week is here!
This week
CYTOMED 25 (Liothyronine Sodium (T3)) is 20% off!
*
But that is not all!
You can find another product with a discount on our Telegram channel!
https://t.me/deuspowershop
*valid till 12.03.2023
As always, working hard and getting bigger! Let's grow together!
DeusPower.shop