Review Detail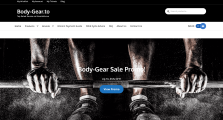 (Updated: November 30, -1)
Customer Support & Ordering Process
Ive done 3 orders and the process is smooth as silk. Just follow the ordering instructions to the letter and everything goes like dominos. Customer support is excellent and responds within 24 hours.
Delivery (T/A) & Packaging
Packaging is well done. Padded and all my orders have been recieved complete and have had no damage.
Products Ordered
Test c 200
Dhb 100
Primo E 100
Proviron 25
All odin products
Product Effects
The products are all properly dosed and very strong. I have amazing workouts in the gym and feel better overall. The dhb injections are a little painful....but thats how it goes with dhb. Odin Anabolics products are A+.
Review
I would recommend Body Gear to anyone. They truly are 10/10.
Do you recommend this supplier?