Review Detail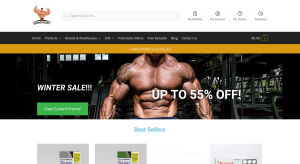 (Updated: November 30, -1)
Customer Support & Ordering Process
Customer support was top-notch. COVID slowed down the process, but they made sure I got my products ASAP. Whenever I needed to reach out to them, they responded back promptly. I can't say enough good things about their customer service! They made me feel confident that I had chosen the right supplier.
Delivery (T/A) & Packaging
Delivery took a bit longer because of COVID, but the staff at Irondaddy kept in constant contact with me to alleviate any fears I had about the order not getting here. The order came as promised and packaged superbly and discreetly. There was no chance of breakage or any sign of what was in the package.
Products Ordered
Testolab-E 250 x 3
Stano-lab 20 x1
Taldenaxyl 20 (Tadalafil) x 2
Anastro-lab x1
Product Effects
I use Test-E as both TRT and occasional blast. This particular brand (Testolab) works well for both. It is high quality, not cloudy, and leaves no PIP after injection. Stano-lab's Winstrol worked well for me at 20mg a day. Strength gains were noticeable, while size gains were less noticeable probably because of the dose. Nevertheless, I did gain some size and definitely improved my vascular appearance. Tadalafil is always good for the weekends (ha!), but also worked well for me in keeping my BP in check. Finally, I have Anastro-lab on hand if needed, though with this cycle (400 T and 20mg of Winstrol), I did not need it.
Review
IRON-DADDY.TO earned my trust with their excellent customer service, wide array of top-notch products, seamless ordering experience, and attention to detail amidst the whole process. They definitely care if the customer is satisfied and know the value in repeat customers. I am definitely a customer for life!
Do you recommend this supplier?