Review Detail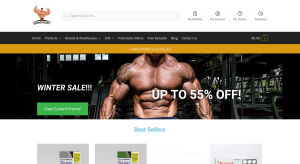 (Updated: November 30, -1)
Customer Support & Ordering Process
Customer support was great. The bitcoin atm fee was larger than I was told and i didnt send enough at first. They worked with me to find a fast resolution.
Delivery (T/A) & Packaging
The delivery was quicker than expected and the packaging was discreet and completely intact
Products Ordered
2 sustanon 250, 1 testosterone cypionate 200 and 1 clenbuterol
Product Effects
I'm 2 weeks into taking my stack and the results r great. I've put on a lean 10lbs and cut a little fat as well. Only sides are a little bit of oily skin. Strength is going up every session.
Review
Not the first time I've used them and for sure won't be the last. Great company with great products and an unbelievable support staff 10/10
Do you recommend this supplier?