Review Detail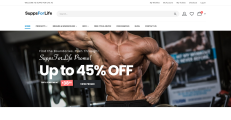 (Updated: November 30, -1)
Customer Support & Ordering Process
Extremely friendly customer support. I did used other sources of roids, but these guys had great communication and that's the main reason I chose them. I always got my questions answered professionally, fully and quickly.
Delivery (T/A) & Packaging
Always perfect as expected. Packaging was discreet and delivery in timely manner both times I ordered from them
Products Ordered
First time I ordered Testosterone Enanthate and Anavar
Second time I ordered Test Enanthate, Winstrol and Clenbuterol. Thinking about a third order.
Product Effects
I respond very well to steroids and I know that their products are great taken in consideration that each time I'm on cycle I can see results. I can feel them in terms of strength, performance etc., but the biggest reward is to see the muscle grow and fat melting off.
Review
Supps For Life is my go. Been using other sources but I really love the communication, the cheaper prices compared to other sources (exact same brand and exact same compound) and the fact that their products are 100% legit and timely delivered. Will further use this source.
These guys really know how to do their job.
Do you recommend this supplier?