Review Detail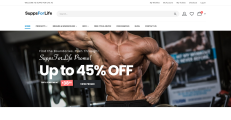 (Updated: November 30, -1)
Customer Support & Ordering Process
Very easy and user friendly.
Delivery (T/A) & Packaging
Product Effects
I have zero complaints. At almost 8 weeks out I am very pleased with the results, so I am assuming the quality was good.
Review
This is a great company with fast shipping. They have very competitive if not the best prices, plus every item you buy gets a few dollar credit on future orders. Shipping was fast and discreet. I have used them 3 times and will use them in the future! I cannot give a higher recommendation!
Do you recommend this supplier?