Review Detail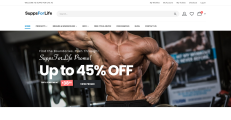 (Updated: November 30, -1)
Customer Support & Ordering Process
Everything went smoothly. Arrived on time as promised. These guys are very trustworthy and have earned my business for a long time to come.
Delivery (T/A) & Packaging
4 to 5 business days on average. Depending what day of the week you order. Packaging very basic. Packed discreetly.
Products Ordered
Tren Enan 200 by Odin.
Very good product. I had very little side effects after 4 weeks of using.
Product Effects
After 4 weeks on 400 mg a week I had a little aggression 1st 2 weeks. 3rd and 4th not so bad. I didnt feel anything other then a few mild night sweats. Muscles became harder and strength increased a lot.
Review
Very good product. Might be a bit milder then other Trens out there. But if you had issues using Tren before like I have then this might be something you want to try.
Do you recommend this supplier?