Review Detail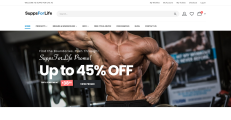 Customer Support & Ordering Process
Customer support was very professional. From the start I was a little confused about using bitcoin to pay but they have detailed instructions on their website thst cleared up my questions. Ordering was a piece of cake and sending the payment took less than 5 minutes to do for my first time. No complains as far as Customer service or ordering.
Delivery (T/A) & Packaging
Package too about a week to arrive and was delivered in my mailbox. No need for a signature or anything. Rather than a big box they were delivered in a well protected envelope thst hid the contents and provided adequate protection for the contents.
Products Ordered
Xeno arimidex
Xeno tamoxifen
Odin test e 250
Product Effects
As far as the tamoxifen goes, I haven't used it nor do I plan to as it's just if I decide to pct. I've use the arimidex one and it helped manage an estrogen flare up very well within 24-48 hours. I bought 2 vials of the test e 250 from Odin and it's definitely the real deal. For the first 5 weeks it was more of a placebo effect but from weeks 6 to current date the effects have definitely began to show. I've found that I respond pretty well to low doses so I've ran a mild cycle of 250mg per week and have made significant progress in a matter of 2 months. My squat went from repping 315 for only 4 to now repping it for sets of 13, and my bench went from 225 for sets of 5 to now sets of 12. My body weight has increased 10 pounds from 165 to now 175, while also dropping a significant amount of body fat. I find that doses over 350 give me a bloated appearance without using the arimidex so 250mg has been my sweet spot. My mental clarity and overall mood have also increased dramatically since hopping on the test. Whether it's for blasting or cruising Odin test e 250 is a solid choice and will continue being a staple in my gear lineup.
Review
I am very satisfied with my purchase and the effects it has given me in 2 months. I will definitely continue to order from supps for life as they're prices are great and they also give discounts/cash back which further reduces prices. Overall, 5 stars each category.
Do you recommend this supplier?