Review Detail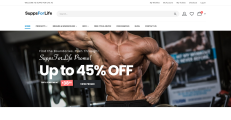 (Updated: November 30, -1)
Customer Support & Ordering Process
Thr ordering process is self explanatory and easy to understand. I like that they proof your purchase themselves and I don't have to screen shot and email any proof.
Delivery (T/A) & Packaging
Packing was nice and tight with 0 room to move around. I always order on Friday and always get it Tuesday. Fastest shipping I have experienced so far.
Products Ordered
I ordered odin 200 test cypinate
Product Effects
I'm using it as a trt and it working amazing this is my second bottle. Mood, energy, and libido have skyrocketed.
Review
All in all you get what you want. It 100% delivers what it's suppose to. I have had no side effects no pip nothing.
Do you recommend this supplier?