Review Detail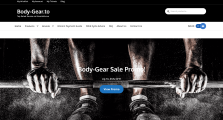 (Updated: November 30, -1)
Customer Support & Ordering Process
Fantastic. Second order arrived quickly, with great packaging. Very discreet.
Delivery (T/A) & Packaging
Padded and protected. Excellent.
Product Effects
All totally legit. Arimidex works like a charm! Feeling the Deca for sure. Winstrol TBD as it comes toward the end of the cycle.
Review
Great source, super accommodating. Thanks Body Gear!
Do you recommend this supplier?