Review Detail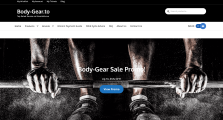 (Updated: November 30, -1)
Customer Support & Ordering Process
Customer support was timely and within a week I had my order.
Delivery (T/A) & Packaging
Packaging is discreet and well cared for.
Products Ordered
Deligas anavar pro 50 and
Odin test e 250
Product Effects
Quality of the gear is excellent. Have not experienced any negative sides yet after 4 weeks. Slight water retention with the test as expected. Strength gains with both of these stacked is ridiculous so far and only 4 weeks in.
Review
I cannot speak on one of these individually because I have stacked them however, I am very pleased with this gear so far. Already looking forward to another cycle with this test e 250.
Do you recommend this supplier?