Review Detail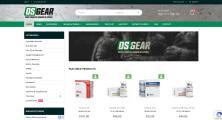 Customer Support & Ordering Process
Great communication and support. Inquires were answered within hours.
Delivery (T/A) & Packaging
2 weeks or under which is great for international products packaged safe and discreet.
Products Ordered
Ultima TestE
Ultima TrenA
Product Effects
Ultima have been on point and reliable. This TestE was a quality product. Felt properly dosed and no issues with PIP. Smooth oil. I ran the Ultima TestE at 1,000 mg for 8 weeks. Splitting injections into twice a week.
I was satisfied with the results from this product. All normal positive effects from running test e were experienced. Increased strength, improved recovery time, increase in libido, lean muscle growth.
Review
Osgear is a good source who does what they say they will do. Fair prices for common products.
Do you recommend this supplier?