Review Detail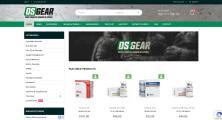 Customer Support & Ordering Process
Ordering process is simple, quick, and their website makes it a breeze.
Delivery (T/A) & Packaging
Ordered from the special 50% off plus buy 3 get 1 free. Test, Tren, Etc. Everything was well packaged, discreet, and arrived as expected. The shipping is slow. Took almost a month from the time I ordered for it to actually ship out and then about 4 more weeks to arrive.
Products Ordered
Tren, Test E and Test Mix
Product Effects
So far all products are excellent quality with all expected results.
Do you recommend this supplier?