Review Detail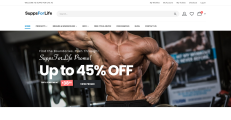 Customer Support & Ordering Process
Excellent other than I had an issue utilizing bitcoin. But the guys at Supps patiently walked me thru it. Thanks guys, sorry for being a bitcoin idiot!
Delivery (T/A) & Packaging
overall about 6 business days, start to finish. Good enough for me!
Products Ordered
2 Test E
2 Tren E
1 Dbol
1 Arimi
Product Effects
Ordered and received Mid May. Gradually increased to 600 mg of test and 200mg of Tren a week, 100 mg of dbol a day. Got exactly what I should have. Except, I only gained about 15 lbs in 8 weeks, BUT, I was eating good, doing increasd cardio. So the 15 lbs looked like 25 ripped lbs. Strength increased in most areas. Over all, great products, and did exactly what I expected them to do.
Review
Have ordered from them a few times before, and will continue to order from them. If it aint broke, don't fix it!
Do you recommend this supplier?